Alarm systems are an essential part of modern process control systems used on industrial plant.  Unless implemented and managed correctly, the alarm system can cause significant operational issues and contribute to potentially serious plant and safety incidents.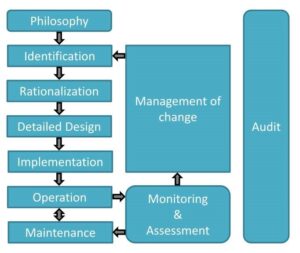 Alarm system management standards such as ANSI/ISA-18.2-2016, IEC62682:2014 and EEMUA 191 provide guidance on alarm processing design, system optimisation and new alarm system specification and address areas such as:
Operations usability
Safety of plant and personnel and environment
System performance monitoring
Engineering design
Provecta is familiar with the above mentioned alarm system management standards and guidelines.
Provecta has extensive experience in the engineering of all aspects of alarms systems design and management. This experience includes:
Definition of alarm design philosophies, principles and standards,
Performing detailed alarm application design and implementation,
Development of alarm documentation (including operator guidance information),
Investigating, rationalising and optimising alarm systems.
Provecta has also developed and implemented a Master Alarm Database (MADB) tool which Provecta provides as a client specific engineered solution to assist the clients alarm management processes. This database utilises front-end web-based system to assist with the activities defined in the alarm management life cycle such as alarm rationalisation, alarm prioritisation and management of change.
Should you wish to discuss any aspect of our Alarm System Management services, please contact:
Mr Simon Wedgwood Simon.Wedgwood@provecta.com.au P 02 8204 5490 M 0413 803 481