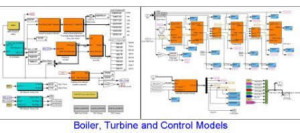 PROJECT TITLE:
Control and Plant Modelling for Low-NOx Burner Retrofit Project
CLIENT:
Connell Wagner
PROJECT DESCRIPTION:
PROVECTA was engaged by Connell Wagner to provide specialist services to develop a detailed dynamic model of the boiler steam processes and unit control structures, to assist in prediction of the impact of new Low-NOx burners on the plant's dynamic performance to be installed at one of their client's sites.
Activities involved building control and plant models in Simulink and included physical basis heat transfer modelling, site data gathering and system identification, control structure replication, design validation, burner scenario testing and outcome predictions for various load changing and disturbance conditions. PROVECTA makes extensive use of modelling tools such as Simulink for power plant tuning, control structure development and simulation testing.